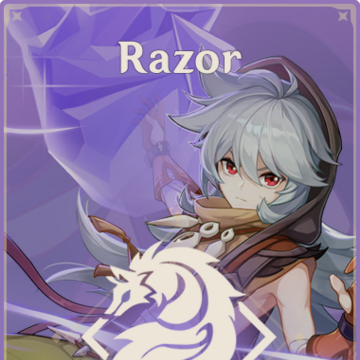 The meaning of Lupical is the first act of Razor's legendary mission: Lupus minor.
During the act, the Traveler ventured into the wildest ruled place in Mondstadt, ruled by powerful ferocious wolf laws.
Missions
Wolf territory
Another day as a Knight Scout!
Ravaged by wolves?
Lupical, a matter of fate
Your Order
Upon reaching the Kingdom of Wolves, the Traveler and Paimon explored the area and are attacked by Slimes. A young man with the appearance of a wolf walks in and saves them from them. By introducing himself as Razor, he wants help finding some raw meat as his intervention has ruined the hunt for his wolf pack. The Traveler finds some raw meat and gives it to Razor, who comments on a "Knight in red, an explosive girl", whom they mistake for Amber.
At the main gate of Mondstadt, the Traveler meets Amber and asks her if she has met Razor before. Amber does not know who they are talking about, but asks them to accompany her for an investigation, as she has heard reports of wolf attacks in Drunken Throat and Aguaclara Village. When investigating for clues, they find skins from different wolves, but also find a lost Wolf Hook seed indicating that the attackers came from the Kingdom of Wolves. Amber tells the people of Aguaclara Village to stay calm while she investigates, but they refuse to sit idly by.
Upon returning to the Kingdom of Wolves, Amber meets Razor for the first time. He claims that she is not the girl he had talked about, however he accepts her help. He asks for their help, smelling blood, causing Amber to worry for the villagers' safety. Razor's lack of social skills initially makes Amber believe that her pack had attacked the village. He leads them to a wounded wolf and when Amber says that doesn't prove her pack is innocent, Razor tells her that another pack of wolves, led by a black wolf, had been attacking the villages.
Venturing deeper into the Kingdom of Wolves, Razor tells the Traveler to collect some Wolf Hook seeds to tend to a wounded wolf, while he answers Amber's questions. The Traveler returns with the seeds, just as the Aguaclara villagers come and accuse Razor of orchestrating the wolves' attacks. Andrius, the Wolf of the North, is enraged by the riots and orders Razor to fight him to prove his worth in protecting outsiders. With the Traveler's help, Razor is able to calm Andrius, who then tells the entire group that a herd of outsiders has been responsible for the attacks, not Razor. Andrius claims that the alien pack will pay for his actions, however, Razor cannot intervene, as he is ultimately a human and not a wolf; who fights with a sword, not with his teeth. Seeing the Traveler's courage, Andrius also allows them to train with him after he leaves the scene.
Razor is upset that he cannot help his wolf pack, and Andrius's words have made him question his identity. Amber offers to drive him to Mondstadt for his safety and that of the pack. Razor accepts the offer and thanks the three for their help, playfully forgetting Amber's name, much to his disdain.