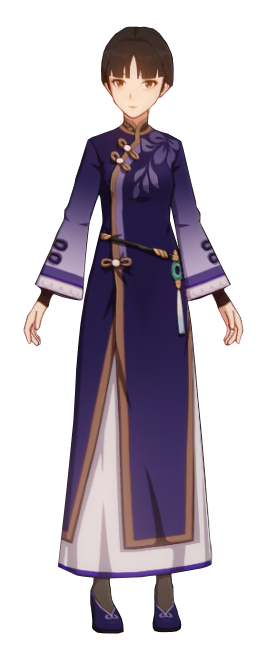 ⚠️
This article is a stub.
You can help Genshin Impact by expanding it.
Linlang is a non-playable character in the Port of Liyue. The Xigu Antique Shop is only open at night. And during the day she can be found browsing some stalls at the northern end of Liyue Harbor. Following a certain dialogue path for the first time gives you three Fine Refinement Ore.
She too exchanges the three Nameless Treasures for 350 Adventure XP, 40 Protogems, and 100000 Mora. Optionally, the opaque ring from "The Nine Pillars of Peace" can be sold to you for 200000 Blackberries.
Summary
1 Missions and events

1.1 World missions
1.2 Archon Mission
1.3 Commission missions

2 Store
3 sentences
Missions and events
World missions
See also:
World missions.
Archon Mission
See also:
Archon Mission.
Custom missions
See also:
Custom missions.
Store
| Image | Purpose | Cost | Limit |
| --- | --- | --- | --- |
| 48px | Itinerant Doctor's Medicine Bottle ⭐⭐ | 2000 | 1 |
| 48px | Itinerant Medic's Owl Feather ⭐⭐ | 2000 | 1 |
| 48px | Itinerant Medic's Handkerchief ⭐⭐ | 2000 | 1 |
| 48px | Itinerant Medic's Silver Lotus ⭐⭐ | 2000 | 1 |
| 48px | Itinerant Doctor's Pocket Watch ⭐⭐ | 2000 | 1 |
Phrases
Overnight