Worse Goldet is a non-playable character found at the Wangshu Inn in Dihua Swamp, Liyue. She is the owner of the inn, a distinction on which she insists a lot. He also sells the posada's dishes and recipes.
Verr Goldet is involved in the Archon Mission "Chapter I: Act I - The Land Between the Monoliths". Your dialogue will change slightly after completing the mission.
Summary
1 Location
2 Profile
3 Store
4 Missions and events

4.1 Archon Mission
4.2 Legendary Mission
4.3 Events

5 Inactive appointments
Location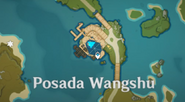 Location
Profile
Verr Goldet is the head of the Wangshu Inn and the wife of Huai'an. She is supposedly originally from Mondstadt and moved to Liyue once she got married. However, Jiangxue points out that no one from Mondstadt knows her, which suggests that she is using an alias or may be from another nation.
Store
| Image | Purpose | Cost | Limit |
| --- | --- | --- | --- |
| 48px | Almond tofu | 1 550 | 2 |
| 48px | Meat rolls with matsutake | 1 750 | 2 |
| | Noodles with mountain delicacies | 2 150 | 2 |
| | Chicken and mushroom skewer | 450 | 10 |
| | Recipe: Vegetarian Abalone | 2500 | 1 |
| | Recipe: Bamboo Shoot Soup | 2500 | 1 |
| | Matsutake | 300 | 10 |
| | Butter | 270 | 10 |
| | Sausage | 840 | 10 |
| | Silk flower | 1000 | 10 |
| | Crystal bell | 1000 | 10 |
Missions and events
Archon Mission
Chapter I, Act II: The Land Between the Monoliths
Legendary Mission
King of the Golden Wings

The Butterfly Dream - Astral Projection
Events
Rite of the Lantern

The origin of the lanterns
A light on the sea
Inactive appointments