Plants and trees grow thickly on Watatsumi Island. Its color is different from those of other islands. »
~ Version 1.6 special program
Watatsumi Island (Japanese: Watatsumi-jima) is one of the Inazuma Islands. Between these islands, he is located at the opposite end of Narukami Island, where the Electro Archon resides. It was revealed on the Live Show in Version 1.6.
Summary
1 Description
2 Notable features
3 Missions
4 Enemies

4.1 Common enemies
4.2 Elite enemies
4.3 bosses

5 SubAreas
6
7 Change history
Description
The island is known for its dense foliage in stunning colors that are distinct from plants found elsewhere. The Sangonomiya Shrine is located in the center of this island, surrounded by a canopy of mountains and waterfalls. The distance from the capital city has allowed the residents of this island to develop their own unique culture and customs, and as such, many places in Inazuma outside of this island are well aware of the bad relationship they have with the Shogun and their government: There was a brutal war between the two long ago, but it finally ended with the Sangonomiya Clan seeking peace.
The people of Watatsumi, under the leadership of the Sangonomiya Clan, worship the Orobashi (Japanese: 海 祇 大 御 神) instead of the Shogun Raiden.
As a result, the Visions Capture Decree has pushed the hostility between the Sangonomiya Clan and the followers of the Shogun Raiden, particularly the Tenryou Commission, to an all-time high. The Sangonomiya Resistance has risen up in opposition to the decree, while the Tenryou Commission has established a base on the island to crush them.
Notable features
of an academic
"... They don't tend to treat Archon Electro's altars on Watatsumi Island properly, and this case is no exception ..."
"... There are no more ruins related to the Narukami Island civilization around here. There is no point in continuing to investigate from this angle ..."
Missions
World mission
Abismo Plenilunado

El ojo de Watatsumi
El diente de Watatsumi
La aleta de Watatsumi
La cola de Watatsumi

Watatsumi's heart
The divine plant of the deep
The lonely sea creature
Enemies
Common enemies

Hilichurl Berserker

Hilichurl Ballestero Pyro

Samachurl Electro

Spectrum Anemo

Geo spectrum

Hydro spectrum

Nobushi --Astucia

Nobushi - Fire Debt

Nobushi --Filodemonio
Elite enemies

Samurai Kairagi - Fiery Menace

Samurai Kairagi - Dancing Lightning

Defender of the Ruins

Ruin Destroyer

Ruins Explorer

Ruins Patrolman
Bosses

Hypostasis Hydro
SubAreas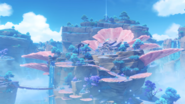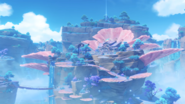 Sangonomiya Shrine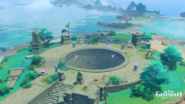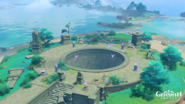 Piscina Suigetsu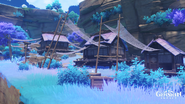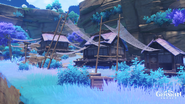 Bourou village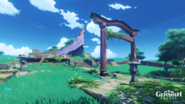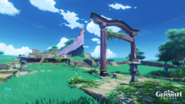 Mouun shrine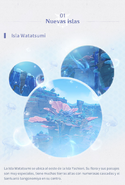 Inazuma's Diary - Watatsumi Island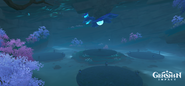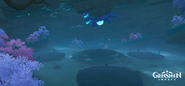 The Heart of Watatsumi
Change history
2.1 version
Watatsumi Island
was added to the game.