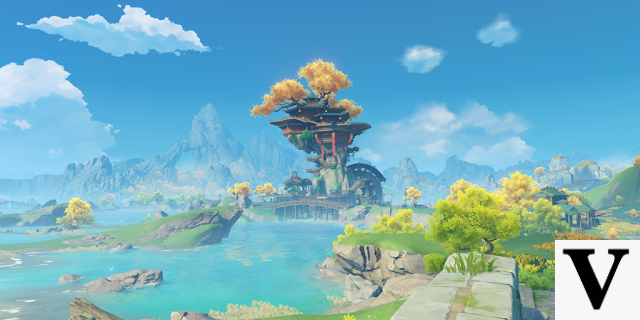 "The inn at the southern end of the Dihua Swamp serves as more than just a resting place for guests. They say that the Wangshu Inn is the perfect place to have a date under the moonlight. Moreover, according to folk tales, even the noble Adeptus enjoy such light in this place. »
~ Lookout Observation Post, Places
The Wangshu Inn is a place within the Dihua Swamp, Liyue, built on a huge stone pillar.
Summary
1 Description
2 NPCs

2.1 Ground Floor
2.2 Upper floor
Description
Since most of the customers who stop here are street vendors, the inn provides them with an area to trade and set up stalls. The view from the top of the inn is astonishing: weather permitting, you can see all the way to Mount Chingtsé and the Jueyun Gorge in the distance.
A legend among the stalls says that the tower of the inn hides a mysterious secret, but that is all that is known, since no one has been able to verify those claims.
The inn itself is run by Verr Goldet and her husband, Huai'an.
NPCs
Low level
Caspar
Dandy, adventurer
Great merchant Huang, traveling merchant
Huangshan, escolta
Jiangxue
Madame Qin (by day)
Master Hui (by day)
Chingzhou, bardo
Xi, maid (by day)
Xiling, marinera
Xuanfan, sailor
Yuhua, waitress of the inn
Zhen Chiang, goalkeeper
Zhonglin, traveling merchant
Top floor
Huai'an, gerente de la Posada Wangshu
Holderlin (by day)
Moli (by day)
Landa, traveling merchant
Richie, dog
Smiling Yanxiao, chef
Soraya, scholar
Diya
Verr Goldet, jefa de la Posada Wangshu
Whiskers, cat