Wanderer's Orchestra
is a set of artifacts from Genshin Impact.
Summary
1 effect
2 Recommended Characters
3 Obtaining
4 History

4.1 Morning Light of the Orchestra
4.2 Bard's Feather
4.3 Final Act Clock
4.4 Canteen of the Wanderer
4.5 Wanderer's Hat

5 Statistics
6 Change history
Effect
2 pieces Elemental Mastery +80 4 pieces Increases Charged ATK damage by 35% if character uses catalyst or bow.
4-piece voucher:

The 4-Piece Bonus is considered% Damage and is additive with other sources of% Damage such as the% Elemental Damage from an Eonothem Chalice.
Recommended Characters
The following characters can take advantage of the effect of the 4-piece set.
Winds

Winds

Klee

Klee

Ganyu

Ganyu

Yanfei

Yanfei

Amber

Amber
Obtaining
Bosses (4 stars and 5 stars).
Enter Stormterror's Lair (4 stars and 5 stars).
Northern Wolf Challenge (4 stars and 5 stars).
History
Orchestra Morning Light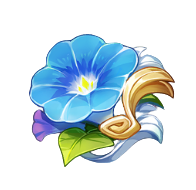 «Small badge in the shape of a flower. If you pay attention, you will be able to hear the sweet notes of a flute and a chorus of voices »
A small flower-shaped badge. It seems to emanate
music from her.

In the Wanderer's Orchestra there was a charismatic
swordswoman.
It was beautiful like the light that reflects off the water, and elegant
like a lark announcing the dawn.
As he brandished the sword, a symphony of
songs and flutes.

The end of every song and every dance was like when
the sun rises after a storm.
Everything returns to its place and calm returns to the stage.

His music and swordplay are as lethal as
elegant.
The Wanderer's Orchestra had two types of audience:
when it came to bandits, the music was much more
beyond the stage.
Pluma del Bardo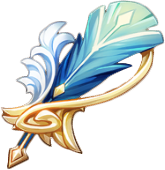 "A blue arrow pen that has not deteriorated over time. It seems to carry with it the melodic sound of the piano. »
An indigo blue arrow that survived the test of time.
When shot, its feathers seem to produce a melody.

The Orchestra harpist was also an archer
expert.
According to legend, he lured birds with the sweet melody of
his harp and then knock them down with his bow.
It is said that when he did this, he did not look at the sky.
The reason, according to some, was the harpist's arrogance. Their
companions said it was due to the mercy of
a hunter.

The feathers of those poor birds ended up decorating the
harpist arrows,
And the sound of his harp became the elegy of the
birds
Final Act Clock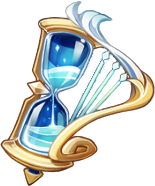 «An hourglass that was used to time the turns of an orchestra. Unfortunately, these concerts have not been held for a long time. »
The hourglass of the Wanderer's Orchestra. It is also
a harp.
The melody becomes lower as it is played.

When the performance came to an end, the Orchestra played
is the harp.
The less there was left to finish, the deeper
did the melody.
Thus, the show came to an end once the tone of the
Harp was so serious that it dissipated in the wind.

However, everything has an ending, and the Orquesta del
Wanderer was no exception.
When fate finished one by one with each musician, their
instruments were buried under the dust.
The hourglass also struck its last note, ticking
the grand finale of the Wanderer's Orchestra.
Cantimplora del Errante

«An old jug with musical strings inside. As the water flows, it emits wonderful melodies. »
An oddly shaped canteen that reproduces a
wonderful melody as the water flows into it.
There is always music in the life of an instrumentalist of
orchestra, even when drinking water.

There is an ancient legend about a Wanderer's Orchestra
who roamed the earth.
Their swords were their flutes and for bows they had harps.
They played not only for guests, but also for
bandits.
They traveled through the desert and stepped on the fiery Mare
Jivari.

The melody of the harp that resounded in the kettle
remembered at all times:
"We walk to the rhythm of limitless melodies."
"Wherever there is music, we will be there."
Wanderer's Hat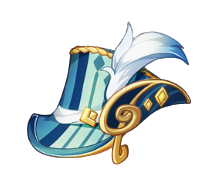 Despite having lived through countless vicissitudes, it is still a glamorous hat. An ancient melody resounds inside. »
A beautiful top hat that has not been seen
affected by the passage of time.
If you pay attention, you can almost hear an ancient
melody echoing inside her.

Thousands of years ago, an Orchestra roamed the
world.
His musicians never carried sheet music. They sang about
of what they saw, and played on what they heard.
As time passed, the Orchestra realized the
vastness of the world.

"Ah, there are so many things to sing about in the world!"

The musicians turned the notes into words and
they wrote down everything they saw.
This hat, for its part, was strongly treasured by the
conductor of the Orchestra even after his death.
Statistics
Flor de la Vida
Statistics
Life
June 430th, 1893
June 645th, 3571
June 717th, 4780
Feather of Death
Statistics
Attack
June 28th, 123
June 42th, 232
June 47th, 311
Sands of the Eon
Statistics
Life
5.2 23.1% ~%
6.3 34.8% ~%
7.0 46.6% ~%
Defense
6.6 28.8% ~%
7.9 43.5% ~%
8.7 58.3% ~%
Attack
5.2 23.1% ~%
6.3 34.8% ~%
7.0 46.6% ~%
Elemental Mastery
June 21th, 92
June 25th, 139
June 28th, 187
Energy Recharge
5.8 25.6% ~%
7.0 38.7% ~%
7.8 51.8% ~%
Chalice of Eonothem
Statistics
Life
5.2 23.1% ~%
6.3 34.8% ~%
7.0 46.6% ~%
Defense
6.6 28.8% ~%
7.9 43.5% ~%
8.7 58.3% ~%
Attack
5.2 23.1% ~%
6.3 34.8% ~%
7.0 46.6% ~%
Elemental Mastery
June 21th, 92
June 25th, 139
June 28th, 187
Elemental Damage Bonus
5.2 23.1% ~%
6.3 34.8% ~%
7.0 46.6% ~%
Bonus Physical Damage
6.6 28.8% ~%
7.9 43.5% ~%
8.7 58.3% ~%
Logos Tiara
Statistics
Life
5.2 23.1% ~%
6.3 34.8% ~%
7.0 46.6% ~%
Defense
6.6 28.8% ~%
v7.9% ~ 43.5%
8.7 58.3% ~%
Attack
5.2 23.1% ~%
6.3 34.8% ~%
7.0 46.6% ~%
Elemental Mastery
June 21th, 92
June 25th, 139
June 28th, 187
Critical Rate
3.5 15.4% ~%
4.2 23.2% ~%
4.7 31.1% ~%
Critical damage
7.0 30.8% ~%
8.4 46.4% ~%
9.3 62.2% ~%
Healing Bonus
4.0 17.8% ~%
4.8 26.8% ~%
5.4 35.9% ~%
Sub-statistics
Along with secondary stats, artifacts can have up to 4 secondary stats or sub-stats. Every 4 levels, an artifact gains a new secondary stat if it is less than 4, or improves one it already has if it has 4. The secondary stat cannot be of the same type as the primary stat.
| Rarity | Maximum level | Number of sub-stats | Number of unlocks | Number of improvements |
| --- | --- | --- | --- | --- |
| | 4 | 0 | 1 | 0 |
| | 4 | June 0th, 1 | 1 | 0 |
| | 12 | June 1th, 2 | June 2th, 3 | June 0th, 1 |
| | 16 | June 2th, 3 | June 1th, 2 | June 2th, 3 |
| | 20 | June 3th, 4 | June 0th, 1 | June 4th, 5 |
Depending on the type of statistic, the initial values ​​are chosen randomly within a range:
Statistics
Life
Plano
June 100th, 143
June 167th, 239
June 209th, 299
Percentage
2.5 3.5% ~%
3.3 4.7% ~%
4.1 5.8% ~%
Attack
Plano
June 7th, 9
June 11th, 16
June 14th, 19
Percentage
2.5 3.5% ~%
3.3 4.7% ~%
4.1 5.8% ~%
Defense
Plano
June 8th, 11
June 13th, 19
June 16th, 23
Percentage
3.1 4.4% ~%
4.1 5.8% ~%
5.1 7.3% ~%
Elemental mastery
June 10th, 14
June 13th, 19
June 16th, 23
Energy Recharge
2.7 3.5% ~%
4.1 5.2% ~%
4.5 6.5% ~%
Critical Rate
1.6 2.3% ~%
2.2 3.1% ~%
2.7 3.9% ~%
Critical damage
3.3 4.7% ~%
4.4 6.2% ~%
5.4 7.8% ~%
Healing Bonus
2.7 3.9% ~%
3.6 5.2% ~%
4.5 6.5% ~%
Change history
1.0 version
Wanderer's Orchestra
was added to the game. Flower of Life Statistics












Life 430 ~ 1893 645 ~ 3571 717 ~ 4780 Feather of Death Statistics












Attack 28 ~ 123 42 ~ 232 47 ~ 311 Sands of the Aeon Stat












Health 5.2% ~ 23.1% 6.3% ~ 34.8% 7.0% ~ 46.6% Defense 6.6% ~ 28.8% 7.9% ~ 43.5% 8.7% ~ 58.3% Attack 5.2% ~ 23.1% 6.3% ~ 34.8% 7.0% ~ 46.6% Elemental Mastery 21 ~ 92 25 ~ 139 28 ~ 187 Energy Recharge 5.8% ~ 25.6% 7.0% ~ 38.7% 7.8% ~ 51.8% Eonothem Chalice Statistics












Health 5.2% ~ 23.1% 6.3% ~ 34.8% 7.0% ~ 46.6% Defense 6.6% ~ 28.8% 7.9% ~ 43.5% 8.7% ~ 58.3% Attack 5.2% ~ 23.1% 6.3% ~ 34.8% 7.0% ~ 46.6% Elemental Mastery 21 ~ 92 25 ~ 139 28 ~ 187 Elemental Damage Bonus 5.2% ~ 23.1% 6.3% ~ 34.8% 7.0% ~ 46.6% Physical Damage Bonus 6.6% ~ 28.8% 7.9% ~ 43.5% 8.7% ~ 58.3% Logo Tiara Statistics












Health 5.2% ~ 23.1% 6.3% ~ 34.8% 7.0% ~ 46.6% Defense 6.6% ~ 28.8% v7.9% ~ 43.5% 8.7% ~ 58.3% Attack 5.2% ~ 23.1% 6.3% ~ 34.8% 7.0% ~ 46.6% Elemental Mastery 21 ~ 92 25 ~ 139 28 ~ 187 Critical Rate 3.5% ~ 15.4% 4.2% ~ 23.2% 4.7% ~ 31.1% Critical Damage 7.0% ~ 30.8% 8.4% ~ 46.4% 9.3% ~ 62.2% Bonus Heal 4.0% ~ 17.8% 4.8% ~ 26.8% 5.4% ~ 35.9%