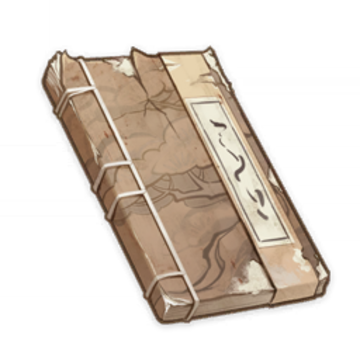 Someone's diary is one of the Genshin Impact books.
Summary
1 Obtaining
2 History

2.1 Volumen I
2.2 Volumen II
2.3 Volume III
2.4 Volumen IV
2.5 Volumen V
Obtaining
Volume I: Obtained from the table in front of Dongdong in Chingtsé Village.
Volume II: Obtained from a Hilichurl camp on the island west of the Yaoguang Coast.
Volume III: Obtained from a tent just northwest of the Luhua Pond teleportation point.
Volume IV: Obtained from a red tent north of the Chingyun Summit teleportation point.
Volume V: Obtained under the stairs of the north tower of the Liyue Port shipyard.
History
Volume I
"Letters collected by Dongdong from Chingtsé Village. Apparently it is a correspondence with his father. »
Dear Dongdong,

How quickly time passes! I've been away for three months now. Do you miss me, son? Do you go to sleep early every day? You are not misbehaving with the townspeople, are you? It's okay, I'll be back soon. As soon as I return from Inazuma, I promise you that this time we will go to the port to see the ships of the Crux Meridianam Fleet.

Dongdong, do you remember the Yaoguang Coast? I've gotten so much gold that I can't even carry it. When I return, we are going to eat lots of delicious things and make tofu every day with the village mill! But what I would most like to do with this money is buy a house in Liyue. One of those with sea views. When he's back, you decide what to do, okay?

You know? I met a Ruin Guardian on a massive cliff in front of Luhua Pond in Guili Plain. He was sitting there crestfallen, totally still, as the deafening thunder and heavy rain fell on him, he was unfazed. I stared at him for a long time until, finally, I realized that the guard was asleep! I began to climb his body, proud of my abilities. I reached her head and, as I put my hands on her, there was a noise. Crack! And then another. Buuuum! The head fell down a cliff and, unfortunately, broke into pieces. Otherwise, I would have taken it as spoils of war to show you.

When you are a little older, I will take you to see the landscapes of Jueyun Gorge. There, the mist is like a sea of ​​clouds, the waterfalls are even more imposing than those of the Chingtsé Village, and one can watch the Adeptus' abode appear and disappear in the mist. It is really impressive. And I've even met a real Adeptus! We ate, drank, talked, and laughed together. He even gave me a bottle that comes out of wine when you blow. But you cannot touch it, you are still small and you cannot drink alcohol. When you grow up, my valuable belongings will all be yours.

When I finish my adventure in Liyue, I will go to the port to take a ship of the Crux Meridianam Fleet in which I will sail to a new distant destination. I'm sure to see even more impressive things and hidden treasures. I want to tell you everything! Dongdong, you keep behaving well and go to bed soon. Do not eat a lot of sweets, you will get cavities. And don't piss off the village elders! Try to get along with everyone and don't fight with anyone. I will return very soon with many things to tell you.

Take care. Dad.
Volume II
«A diary left by someone in nature. Describes an unfortunate encounter on the Yaoguang Coast. »
«Costa Yaoguang»
Again there is fog. Had he known, he would have ignored those old miners and would not have come here for gold. The old folks retired ten years ago and all the information they gave me is out of date. Nothing they said helped me! In so much fog I couldn't find anything, not even the address back home. Hey Dongdong, you'll be eating well, right?

I heard the noise of some Hilichurls coming from somewhere in the fog. Maybe it should go in the opposite direction to that noise. So someone will save me ...

After walking for I don't know how long, the fog continued without dissipating and I no longer knew if it was day or night. Hey? Is that what I see are shadows? May the King of the Rock save me from going wrong, but if I go with them, someone may rescue me. Decided: I'll go with the shadows.

In the end, as the fog was so thick, I couldn't even trust the shadows, so I decided to camp until they left to continue. I don't know, maybe I should go back the way I came ...

Curse! I hear Hilichurls everywhere. I will...

(The content of the diary ends here).
Volume III
«A diary left by someone in nature. Describes an unfortunate encounter on the Guili Plain. »
"Guili Plain"
What a bad luck!

After all it took to flee from Hilichurl camp and reach Guili Plain, a Guardian of Ruins began to pursue me! Since he didn't react at all even though it was pouring rain, I thought it was because he couldn't move. Who would have thought that a sudden flash over his head would wake him up. He was alive!

I tried to flee like a defenseless chick while the Guardian chased me to throw me off the cliff. Luckily, after running so much, I ended up finding a cave at the foot of it, where I could hide and outwit the enemy. If not, it would have ended up in pieces or ... I don't know, I don't even want to think about it.

Now I have left it far behind, but I still hear in my ears a noise similar to the buzzing of a thousand bees. I must have broken two bones, because I have no strength in my arms. But I can still go on ... No; I have to continue. At my age, if I don't make one last effort, I don't know if I will see my son Dongdong and his mother again.
Volume IV
«A diary left by someone in nature. Describes an adventure in the Jueyun Gorge. »
"Jueyun Gorge"
At the foot of the mountain, I met an herbalist who fixed my bones in a very painful way. He told me that very few people manage to survive a Ruin Guardian in one piece ... So I guess I was very lucky.

From above, all you could see was how the mist covered the entire Jueyun Gorge, a region with very little human trace. It was impossible to discern how dense the sea of ​​clouds was. In the depths of the stone forest, the distant roar of monsters and illuminated beasts that was heard made my hair stand on end. I don't understand how they could get amber and medicinal herbs out of here. It is assumed that, in the past, many poor people from the village settled in Liyue because they earned their living from the trafficking of medicinal material. How come I am not so lucky?

It rained heavily that night and the mountains were too slippery to climb. I don't know where I put my harness and my climbing peak. How weird, I'm not usually so careless. It must be the mountain monsters' fault! Maybe it was a fox ...

After four or five days of going here and there, I finally managed to get some good medicinal herbs, so I started preparing everything to leave. At first, I thought about exploring a bit more, but this demonic place is terrifying. At night, I feel as if the shadows of the forest follow behind me, and the roars of the monsters, coming from the top of the mountains, are heard closer and closer.

As I descended from the mountain, I picked up an old bottle from the ground that was not in bad condition. I just had to wash it a bit in a spring. I'll give it to Dongdong when I get back. Surely he will be very happy. I will tell you that it is a valuable bottle that the Adeptus gave me.
Volumen V
«A diary left by someone in nature. Describe your experiences in Liyue. »
«Liyue»
As I sold the medicine I collected at the Bubu Pharmacy, not only did I get back the lost money, but I also earned a little more. If I continue like this, I will be able to buy a house in Liyue in a few more years to live next to Dongdong. The good news is, by then, he will be about to start school.

If I had been a good student when I was young, I would not have met that Treasure Thief mob, nor would I have wasted my father's inheritance. When I think about it, I just want Dongdong to study with the best teacher and make good friends. That way you will never have to see yourself in the same situation as me. For him, I still can't give up. I have to keep trying.

Still, I still cling to the idea of ​​suddenly getting rich, so I tried my luck at a gambling game at The Jade Mystery. At first, I didn't want to waste money on it, but Chief Shitou is so eloquent ... In the end I ended up gambling all my money, and I was not so unlucky! I managed to win some good quality Nephrites, but I lost the sickle that I used to collect herbs, and also the medicine cabinet.

Now I have nothing left. Although the treasures I won are very good, it is not easy to exchange them to buy other things. All I can do is keep playing. I will go abroad to try my luck. Will Captain Beidou accept me if I ask for refuge in the Crux Meridianam Fleet?

I settle for anything. If only to clean the deck of the ship. I haven't eaten anything for three days ...