⚠️
This article is a stub.
You can help Genshin Impact by expanding it.
Siegfria is a non-playable character that can be found wandering on a cliff southeast of Aguaclara Village.
Summary
1 Location
2 Missions and events
3 Inactive appointments
4 Dialogues
Location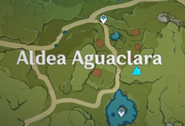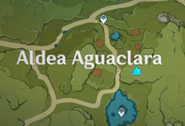 Location
Missions and events
Legendary Missions
The Ladle (Xiangling Story)

Act I: Mondstadt Gastronomic Tour
Lupus minor (Razor Story)

Act I: The Meaning of Lupical

Another day as a Knight Scout!
Inactive appointments
dialogues
Siegfria:
Do you need to make a delivery? I go to the city.

Who you are?
Siegfria:
My name is Siegfria. From time to time I take jobs making round-trip deliveries between Mondstadt and Aguaclara.
Siegfria:
If there is no work, I pick wild vegetables and exchange them for some meat with the hunters.
Siegfria:
I imagine that not even hunters can eat meat every day of their lives, so they are happy.

From what I see, you have a great interest in cooking.
Siegfria:
Great interest? Hmm ... I wouldn't put it like that ... I just need to eat to live!
Siegfria:
I spend on food until the last Blackberry I earn. Even adding a little wild greens and the support of a good hunter, I still feel like I haven't had enough.
Siegfria:
And as soon as I start working, I'm hungrier ...

Goodbye.
Siegfria:
Beware.