This article contains descriptions translated from the English version instead of using the official texts of the game in Spanish. You can correct them yourself or share screenshots of the errors with us via Discord.
Scholar
is a set of artifacts from Genshin Impact.
Summary
1 effect
2 Recommended Characters
3 History

3.1 Scholar's Bookmarks
3.2 Scholar's Pen
3.3 Clocks of the Scholar
3.4 Erudite's Inkwell
3.5 Lenses of the Scholar

4 Statistics
5 Change history
Effect
2 pieces Energy Refill + 20% 4 pieces When obtaining elemental particles or orbs, team members using a bow or catalyst recover 3 pts. additional Elemental Energy. It can only happen once every 3 seconds.
4-piece voucher:

The character with the Erudite artifact set equipped must be on the field to activate the 4-piece Bonus.
The 4-piece Bonus is not affected by Energy Recharge.
The 4-piece Bonus cannot be activated by orbs or energy particles out of the field.
The 4-Piece Bonus cannot be activated with other forms of energy replenishment such as the Exile set or another Erudite set, but can be activated with the elemental particles produced by the Favonius Series passive weapon.
The 4 Piece Bonus can only be activated once every 3 seconds.
A 2 ★ Scholar's Watch can be obtained from Timaeus.
Recommended Characters
The following characters can take advantage of the effect of the 4-piece set.

Mona

Mona

Shogun Raiden

Shogun Raiden
History
Scholar's Bookmark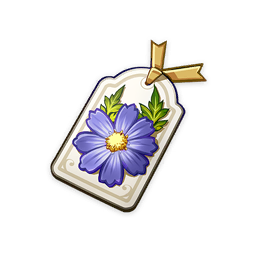 "A dried flower used as a bookmark, had absorbed the scent of the pages"
Flowers were a rare thing for the Scholar, who lived in an ivory tower buried under piles of books.
A young man who admired her gave her an exotic flower in hopes of brightening up her tedious and lonely days of study.
The Scholar accepted the gift with gratitude, and made a flower bookmark out of it.
Thus, there will always be a hint of color hidden in all that pile of boring books.
Scholar's Pen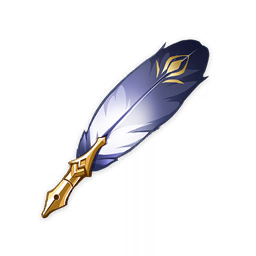 "A bird feather that serves as a feather, the tip has long been dyed black"
The Erudite's feather, made from the plumage of an exotic bird.
As he was not stopping writing, the pen had been completely stained black.
For years, the Scholar never thought of changing her work tool.
Just as a veteran soldier needs his best weapon, the Scholar needed his pen.
Clocks of the Scholar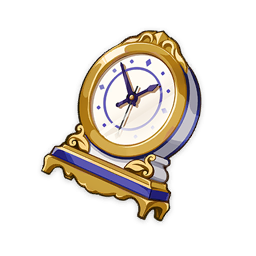 'A small desk clock, whose former owner was a scholar, sat in a windowless room buried in books. This was probably the only reference they had to the time of day »
A delicate watch carefully placed on the Scholar's desk.
As I spent day and night in the study room, I used to lose track of time.
This elegant watch served as a beacon to guide her in her relentless pursuit of knowledge.
All the amount of time you spent between books will have been worth it when wisdom knocks on the doors of your study.
Scholar's Inkwell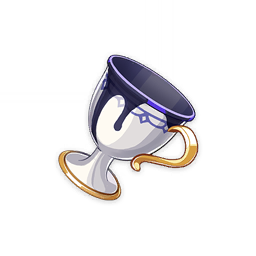 "Originally designed to hold drinking water, this mug was stained black after an academic used it to wash his brushes"
A delicate cup of tea belonging to the Scholar. This work of art is made of light porcelain and covered with golden lines.
While it was in stark contrast to her messy room, the mug suggested that the Scholar came from a noble family.
Not caring about the beauty and purpose of the teacup, the scholar, who lived in an ivory tower, dipped her pen into it.
For her, the mug was simply a container in which to wash the ink. Consequently, the object long ago lost its original elegance.
Scholar's Glasses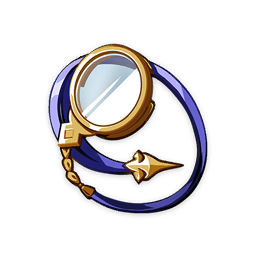 "This corrective lens helped restore the vision of someone whose eyes were damaged by intensive study"
The search for knowledge is a risky bet. Even absolute dedication does not guarantee to get something in return.
The Scholar spent half her life buried in endless mathematical investigations, notes, and calculations.
Finding no answers, he once hesitated and questioned his own career, wasting precious time.
His eyesight, very sharp in the past, also got tired from intensive reading.
And yet the answer he hoped to find never came.
Statistics
Flor de la Vida
Statistics
Life
June 430th, 1893
June 645th, 3571
June 717th, 4780
Feather of Death
Statistics
Attack
June 28th, 123
June 42th, 232
June 47th, 311
Sands of the Eon
Statistics
Life
5.2 23.1% ~%
6.3 34.8% ~%
7.0 46.6% ~%
Defense
6.6 28.8% ~%
7.9 43.5% ~%
8.7 58.3% ~%
Attack
5.2 23.1% ~%
6.3 34.8% ~%
7.0 46.6% ~%
Elemental Mastery
June 21th, 92
June 25th, 139
June 28th, 187
Energy Recharge
5.8 25.6% ~%
7.0 38.7% ~%
7.8 51.8% ~%
Chalice of Eonothem
Statistics
Life
5.2 23.1% ~%
6.3 34.8% ~%
7.0 46.6% ~%
Defense
6.6 28.8% ~%
7.9 43.5% ~%
8.7 58.3% ~%
Attack
5.2 23.1% ~%
6.3 34.8% ~%
7.0 46.6% ~%
Elemental Mastery
June 21th, 92
June 25th, 139
June 28th, 187
Elemental Damage Bonus
5.2 23.1% ~%
6.3 34.8% ~%
7.0 46.6% ~%
Bonus Physical Damage
6.6 28.8% ~%
7.9 43.5% ~%
8.7 58.3% ~%
Logos Tiara
Statistics
Life
5.2 23.1% ~%
6.3 34.8% ~%
7.0 46.6% ~%
Defense
6.6 28.8% ~%
v7.9% ~ 43.5%
8.7 58.3% ~%
Attack
5.2 23.1% ~%
6.3 34.8% ~%
7.0 46.6% ~%
Elemental Mastery
June 21th, 92
June 25th, 139
June 28th, 187
Critical Rate
3.5 15.4% ~%
4.2 23.2% ~%
4.7 31.1% ~%
Critical damage
7.0 30.8% ~%
8.4 46.4% ~%
9.3 62.2% ~%
Healing Bonus
4.0 17.8% ~%
4.8 26.8% ~%
5.4 35.9% ~%
Sub-statistics
Along with secondary stats, artifacts can have up to 4 secondary stats or sub-stats. Every 4 levels, an artifact gains a new secondary stat if it is less than 4, or improves one it already has if it has 4. The secondary stat cannot be of the same type as the primary stat.
| Rarity | Maximum level | Number of sub-stats | Number of unlocks | Number of improvements |
| --- | --- | --- | --- | --- |
| | 4 | 0 | 1 | 0 |
| | 4 | June 0th, 1 | 1 | 0 |
| | 12 | June 1th, 2 | June 2th, 3 | June 0th, 1 |
| | 16 | June 2th, 3 | June 1th, 2 | June 2th, 3 |
| | 20 | June 3th, 4 | June 0th, 1 | June 4th, 5 |
Depending on the type of statistic, the initial values ​​are chosen randomly within a range:
Statistics
Life
Plano
June 100th, 143
June 167th, 239
June 209th, 299
Percentage
2.5 3.5% ~%
3.3 4.7% ~%
4.1 5.8% ~%
Attack
Plano
June 7th, 9
June 11th, 16
June 14th, 19
Percentage
2.5 3.5% ~%
3.3 4.7% ~%
4.1 5.8% ~%
Defense
Plano
June 8th, 11
June 13th, 19
June 16th, 23
Percentage
3.1 4.4% ~%
4.1 5.8% ~%
5.1 7.3% ~%
Elemental mastery
June 10th, 14
June 13th, 19
June 16th, 23
Energy Recharge
2.7 3.5% ~%
4.1 5.2% ~%
4.5 6.5% ~%
Critical Rate
1.6 2.3% ~%
2.2 3.1% ~%
2.7 3.9% ~%
Critical damage
3.3 4.7% ~%
4.4 6.2% ~%
5.4 7.8% ~%
Healing Bonus
2.7 3.9% ~%
3.6 5.2% ~%
4.5 6.5% ~%
Change history
1.0 version
Scholar
was added to the game. Flower of Life Statistics












Life 430 ~ 1893 645 ~ 3571 717 ~ 4780 Feather of Death Statistics












Attack 28 ~ 123 42 ~ 232 47 ~ 311 Sands of the Aeon Stat












Health 5.2% ~ 23.1% 6.3% ~ 34.8% 7.0% ~ 46.6% Defense 6.6% ~ 28.8% 7.9% ~ 43.5% 8.7% ~ 58.3% Attack 5.2% ~ 23.1% 6.3% ~ 34.8% 7.0% ~ 46.6% Elemental Mastery 21 ~ 92 25 ~ 139 28 ~ 187 Energy Recharge 5.8% ~ 25.6% 7.0% ~ 38.7% 7.8% ~ 51.8% Eonothem Chalice Statistics












Health 5.2% ~ 23.1% 6.3% ~ 34.8% 7.0% ~ 46.6% Defense 6.6% ~ 28.8% 7.9% ~ 43.5% 8.7% ~ 58.3% Attack 5.2% ~ 23.1% 6.3% ~ 34.8% 7.0% ~ 46.6% Elemental Mastery 21 ~ 92 25 ~ 139 28 ~ 187 Elemental Damage Bonus 5.2% ~ 23.1% 6.3% ~ 34.8% 7.0% ~ 46.6% Physical Damage Bonus 6.6% ~ 28.8% 7.9% ~ 43.5% 8.7% ~ 58.3% Logo Tiara Statistics












Health 5.2% ~ 23.1% 6.3% ~ 34.8% 7.0% ~ 46.6% Defense 6.6% ~ 28.8% v7.9% ~ 43.5% 8.7% ~ 58.3% Attack 5.2% ~ 23.1% 6.3% ~ 34.8% 7.0% ~ 46.6% Elemental Mastery 21 ~ 92 25 ~ 139 28 ~ 187 Critical Rate 3.5% ~ 15.4% 4.2% ~ 23.2% 4.7% ~ 31.1% Critical Damage 7.0% ~ 30.8% 8.4% ~ 46.4% 9.3% ~ 62.2% Bonus Heal 4.0% ~ 17.8% 4.8% ~ 26.8% 5.4% ~ 35.9%