⚠️
This article is a stub.
You can help Genshin Impact by expanding it.
Situated atop the Narukami Grand Shrine, this sacred tree watches over Inazuma with buds that are distributed throughout the nation. In the past, the inhabitants of Inazuma thought that the Sacred Cherry Tree purified dirt from the land through the Thunder Cherry Tree in order to safeguard the safety of the land and water. The tree grants electrograns, which function as its messengers, to the travelers to whom it grants its grace, helping them to overcome adversity.
Grace of the Sacred Cherry
In Version 2.1, the Sacred Cherry is limited to Level 30.
Rewards
Electrograno Level
To unlock
1 level
Weak resin x1
Adventure EXP x200
Mineral x10
Mora x50 000
Electro Badge × 25
2 level
Gathering of Destiny x2
Adventure EXP x200
Mineral x10
Mora x50 000
Electro Badge × 25
3 level
Philosophy of Transience x2
Adventure EXP x200
Mineral x10
Mora x50 000
Electrograin Level 2
Electro Badge × 25
4 level
Northern Sword Prototype x1
Adventure EXP x200
Mineral x10
Mora x50 000
Electro Badge × 25
5 level
Crown of Wisdom x1
Adventure EXP x200
Mineral x10
Mora x50 000
Electro Badge × 25
6 level
Philosophy of Elegance x2
Adventure EXP x200
Mineral x10
Mora x50 000
Electro Badge × 25
7 level
Gathering of Destiny x2
Adventure EXP x200
Mineral x10
Mora x50 000
Electrograin Level 3
Electro Badge × 25
8 level
Inazuma Shrine Key x1
Adventure EXP x200
Mineral x10
Mora x50 000
Electro Badge × 25
9 level
Philosophy of Light x2
Adventure EXP x200
Mineral x10
Mora x50 000
Electro Badge × 25
10 level
Intertwined Fate x2
Adventure EXP x200
Mineral x10
Mora x50 000
Electrograin Level 4
Electro Badge × 25
11 level
Weak resin x1
Adventure EXP x200
Mineral x10
Mora x50 000
Electro Badge × 25
12 level
Gathering of Destiny x2
Adventure EXP x200
Mineral x10
Mora x50 000
Electro Badge × 25
13 level
Philosophy of Transience x2
Adventure EXP x200
Mineral x10
Mora x50 000
Electrograin Level 5
Electro Badge × 25
14 level
Northern Greatsword Prototype x1
Adventure EXP x200
Mineral x10
Mora x50 000
Electro Badge × 25
15 level
Crown of Wisdom x1
Adventure EXP x200
Mineral x10
Mora x50 000
Electro Badge × 25
16 level
Philosophy of Elegance x2
Adventure EXP x200
Mineral x10
Mora x50 000
Electro Badge × 25
17 level
Gathering of Destiny x2
Adventure EXP x200
Mineral x10
Mora x50 000
Electrograin Level 6
Electro Badge × 25
18 level
Inazuma Shrine Key x1
Adventure EXP x200
Mineral x10
Mora x50 000
-
Electro Badge × 25
19 level
Philosophy of Light x2
Adventure EXP x200
Mineral x10
Mora x50 000
-
Electro Badge × 25
20 level
Intertwined Fate x2
Adventure EXP x200
Mineral x10
Mora x50 000
Electrograin Level 7
Electro Badge × 25
21 level
Weak resin x1
Adventure EXP x200
Mineral x10
Mora x50 000
-
Electro Badge × 25
22 level
Gathering of Destiny x2
Adventure EXP x200
Mineral x10
Mora x50 000
-
Electro Badge × 25
23 level
Philosophy of Transience x2
Adventure EXP x200
Mineral x10
Mora x50 000
Electrograin Level 8
Electro Badge × 25
24 level
Northern Spear Prototype x1
Adventure EXP x200
Mineral x10
Mora x50 000
-
Electro Badge × 25
25 level
Crown of Wisdom x1
Adventure EXP x200
Mineral x10
Mora x50 000
-
Electro Badge × 25
26 level
Philosophy of Elegance x2
Adventure EXP x200
Mineral x10
Mora x50 000
-
Electro Badge × 25
27 level
Gathering of Destiny x2
Adventure EXP x200
Mineral x10
Mora x50 000
Electrograin Level 9
Electro Badge × 25
28 level
Inazuma Shrine Key x1
Adventure EXP x200
Mineral x10
Mora x50 000
-
Electro Badge × 25
29 level
Philosophy of Light x2
Adventure EXP x200
Mineral x10
Mora x50 000
-
Electro Badge × 25
30 level
Intertwined Fate x2
Adventure EXP x200
Mineral x10
Mora x50 000
Electrograin Level 10
Electro Badge × 25
31 level
Weak resin x1
Adventure EXP x200
Mineral x10
Mora x50 000
-
Electro Badge × 25
32 level
Gathering of Destiny x2
Adventure EXP x200
Mineral x10
Mora x50 000
-
33 level
Philosophy of Transience x2
Adventure EXP x200
Mineral x10
Mora x50 000
Electrograin Level 11
34 level
Northern Catalyst Prototype x1
Adventure EXP x200
Mineral x10
Mora x50 000
-
35 level
Crown of Wisdom x1
Adventure EXP x200
Mineral x10
Mora x50 000
-
36 level
-
-
-
-
-
-
37 level
-
-
-
-
Electrograin Level 12
-
38 level
-
-
-
-
-
-
39 level
-
-
-
-
-
-
40 level
-
-
-
-
Electrograin Level 13
-
41 level
-
-
-
-
-
-
42 level
-
-
-
-
-
-
43 level
-
-
-
-
Electrograin Level 14
-
44 level
-
-
-
-
-
-
45 level
-
-
-
-
-
-
46 level
-
-
-
-
-
-
47 level
-
-
-
-
Electrograin Level 15
-
48 level
Inazuma - Sacred Cherry
-
-
-
-
-
49 level
-
-
-
-
-
-
50 level
-
-
-
-
-
-
Tutorial - Grace of the Sacred Cherry Tree
| Tutorial | Description |
| --- | --- |
| | Offer the Holy Cherry any Electro badges you earn on your adventures in Inazuma to increase the Holy Cherry's grace level and obtain valuable materials. |
| | By raising the level of the Holy Cherry's grace, sometimes the level of the electrograins will also increase and they will become more powerful. |
Location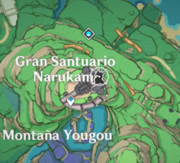 Montaña Yougou, Inazuma