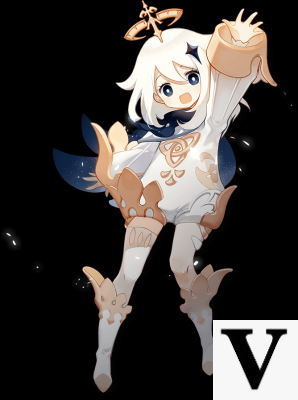 ⚠️
This article is a stub.
You can help Genshin Impact by expanding it.
Paimon
is a non-playable character in Genshin Impact.
Summary
1 Profile

1.1 Appearance
1.2 Personality

2 Curiosities
Profile
Accompany the Traveler throughout his adventure in Teyvat as a guide. He met the Traveler when he caught her in a lake where he mentions that he would have drowned if he hadn't taken her out. He currently represents Genshin Impact and is on the Genshin Impact app, website and social media icons.
Appearance
Paimon has a small body, which gives him the appearance of a fairy. He has thick white hair trimmed just above his shoulders, dark purple eyes, and fair skin.
She wears a long-sleeved white sweater and a star-studded midnight blue cape, and white stockings with white boots. Rose gold embroidery and shapes are attached to her jumper, boots and sleeves.
Paimon's accessories are a dark purple, almost black hairpin, and a rose gold crown that levitates above her head like a halo.
Personality
Paimon is bubbly, outgoing, but almost a little too honest and is often rude. She makes it clear who she favors; who likes and who doesn't like, for example, since he doesn't like Venti, makes this very clear by calling him a "cheap bard." She stands up for what she thinks and makes it pretty clear. It tends to refer to itself in the third person.
He loves eat; Despite its small size, it can devour large amounts of food before feeling full. He also knows well the history behind many dishes. While he enjoys Slime products, he also claims that his worst nightmare is being eaten by a particularly large Slime.
Curiosities
During the Legendary Mission Trapped in a land without winds: Carmen Dei, Act I, while we discover the imaginary friends of the children of Mondstadt the Traveler urges Paimon to say his "favorite phrase" that would be the same as he says when we try to travel beyond the map but she turns us around: "How about we explore the area in front later?" It's a nice touch.
Paimon's role as Genshin Impact's mascot is similar to that of Ai-Chan, the mascot of Honkai Impact 3rd, another of the miHoYo games.
The Traveler's voice lines suggest that Paimon has more than one stomach, where one of them is made specifically for liquids.
The symbol on Paimon's clothing is an upside down triquetra, one of the prominent symbols in Teyvat.