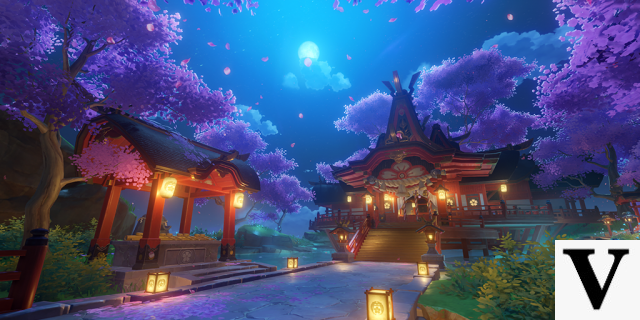 ⚠️
This article is a stub.
You can help Genshin Impact by expanding it.
El Narukami Grand Shrine It is a location on Yougou Mountain, Inazuma. It was revealed in the Version 2.0 Special Program.
Yae Miko is in charge of the shrine and is considered the most experienced member, according to Inagi Hotomi during the Archon Mission, The Unchanging Goddess and the Eternal Utopia.
500 years ago, the shrine was led by the Kitsune Saiguu and the Tengu leader, the Tengu Yougou leader. Shrine priestess Asase Kanade and tengu Teruyo also dwelt there for a time.
Summary
1 Description
2 Features
3 NPCs - Non-playable characters
4 Miko
Description
"Situated atop the Narukami Grand Shrine, this sacred tree watches over Inazuma with buds that are distributed throughout the nation. In the past, the inhabitants of Inazuma thought that the Sacred Cherry Tree purified dirt from the earth through the Thunder Cherry Tree in order to safeguard the safety of the land and water. The tree grants Electrogranos, which function as its messengers, to the travelers to whom it grants its grace, helping them to overcome adversity. »
~ Description of Narukami Grand Shrine - Sacred Cherry Tree, Map
Features
Sacred Cherry
Fortune stick
NPCs - Non-playable characters
Inagi Hotomi
Kano Nana
Flour
Yamada
Kanra
Riku
Gendou Ringo
Miko
All Miko in Inazuma are trained in the Narukami Grand Shrine and are ultimately affiliated with the Grand Shrine above all others. His attention to personal shrines has to do with keeping shrines aligned with the Narukami Grand Shrine.
Inagi Hotomi
Kano Nana
Kazari
Flour
Miyuki
All