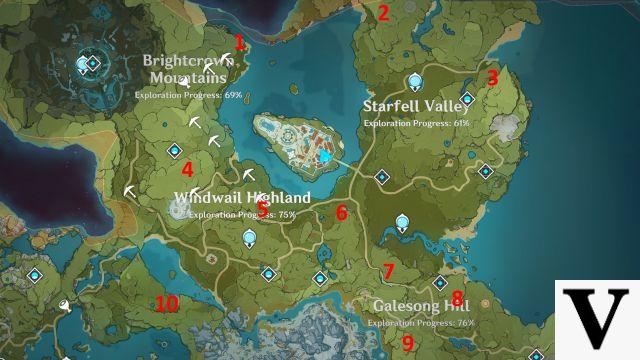 'Capable of breaking the seals of the ancient shrines scattered throughout Mondstadt.
The altar of an ancient deity stands imposing, despite the destruction of its civilization. Keys, which can be found in Domains, can break your seal. Perhaps a breath from the past can make the deity on the altar forget her afflictions. »
La Mondstadt Shrine Key is an Adventure Item that can be used to unlock the Shrines of the Deep in Mondstadt, allowing players to access the chests inside. The keys do not correspond to specific shrines, which means that any key can be used to unlock any shrine in Mondstadt.
10 Mondstadt Shrine Keys can be obtained, allowing the player to open all Mondstadt shrines.
Summary
Obtaining
domains
Temple of the Lioness
Temple of the Wolf
Eagle Portal
Ascension Domain I (Reward 3 Keys)
Missions
The adventurer advances to the horizon
Others
Chapter 4 of the Adventurer's Handbook: "Upgrade the Statue of The Seven in Mondstadt to Lv. 6"
Adventurer's Handbook Chapter 5: "Open 100 Chests"