Marjorie is a non-playable character located in the City of Mondstadt, Mondstadt opposite the Gate of Wind and Glory. Can be found on the Mondstadt map with the Wind and Glory icon

.
Summary
1 Profile
2 Location
3 Store
4 sentences
5 Dialogues
6 Curiosities
7 Missions and events

7.1 Archon Missions
7.2 Legendary missions
7.3 Commission missions
7.4 World missions
7.5 Event missions
Profile
She is the daughter of Cyrus, she established the Wind and Glory store in Mondstadt with the treasures that her father had found in his adventures. Iris (Cyrus's older sister) is Marjorie's aunt.
Appearance
Location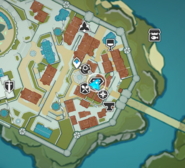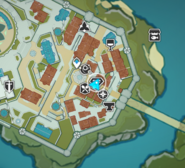 Mondstadt (ciudad), Mondstadt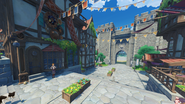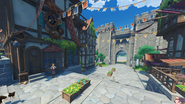 Marjorie in the Wind and Glory
Store
The redemption currency for this store is Insignia Anemo.
Ingredients
Price
Quantity
Total price
Bit of agate agnidus
10
6
60
Bit of Varunate Lazurite
10
6
60
Piece of turquoise vayuda
10
6
60
Piece of jade shivada
10
6
60
Prithiva Topaz Bit
10
6
60
Piece of amethyst vajrada
10
6
60
Decarabian Tile Fragment
4
3
12
Boreal Wolf Milk Tooth
4
3
12
Dandelion Shackles
4
3
12
Souvenir of the Four Winds
225
1
225
Northern sword prototype
225
1
225
Sea × 1
1
60
60
Sea × 1
2
∞
Total price: 906
Phrases
See for yourself!
Weirdo...
dialogues
Marjorie:
Welcome. Each treasure is unique, so we do not negotiate its price, nor do we refund.
I want to buy something. (Before unlocking the store)
Marjorie:
Marjorie:

I want to buy something.
Marjorie:
See how much you want. Let me know if there is something that interests you. (The Souvenir Shop menu opens.) '
There is something I want to ask.
Marjorie:
Oh, I see that you are interested.
Tell me about your articles.
Marjorie:
Which one caught your attention? Each item here is unique. Every purchase here is a bargain!
Marjorie:
We buy it from all adventurers. Each one of them represents their pansion and value ...
Marjorie:
So don't bother asking for a discount. You can never discount passion and courage!
How did you come to own this store?
Marjorie:
Why did I open this store, you ask? It's because of my father.
Marjorie:
He is the Master of the Adventurer's Guild of the Mondstadt division. He always brings tons of treasures after every adventure.
Marjorie:
He always tells me the story behind each of the treasures ... He was my hero when I was little.
Marjorie:
I wanted to share these stories with everyone, so I opened this store ...
Marjorie:
But not long after the opening, my father got a little ... unstable, and talks to himself all day ...
I think I heard you talk about the Kingdom of Wolves. Certain?
Marjorie:
Oh yeah. I saw something strange there a short time ago.
Marjorie:
From his silhouette, I think I saw a child, but he was with a pack of wolves and they all seemed to get along very well ...
Marjorie:
Maybe I got confused. It was quite far from me, after all, and I only got a quick look.
Marjorie:
How could a human live with wolves? How weird...
Goodbye.
Marjorie:
Oh! Don't forget to bring items next time!
Curiosities
Marjorie's Chinese voice actress is the same as Fischl and Albedo's.
Marjorie's English dubbing actress is the same as Kamisato Ayaka's.
Razor is the boy she saw in the Kingdom of the Wolves.
Marjorie makes a small appearance in Genshin Impact - Klee: Jumping Bomb and Genshin Impact - Mona: Divine Orbit.
Missions and events
Archon missions
Chapter I

Act I - "A new rising star"
Legendary missions
Time flies:

Act I - "A troublesome job"

"A Troubled Job (Mission)"
Encounters - Noelle:

Act I - "The path of a knight"

"The intention is what counts"

Act II - "The path of a knight"

"Noelle, the Substitute Grand Master"
Encounters - Bennett:

Act I - "A wonderful adventure"

Something ... other than an adventure?
Encounters - Diona:

Act I - «Feline cocktails»

"The key to finding cats"
Custom missions
World missions
Event missions
Encounter with the wind flowers:

"Poem of flowers and clouds"
Summer, islands, adventures !:

I - "Mysterious islands: journey into the unknown"