Liyue's Mansion: Scarlet Villa It is a Decoration that can be used in the Relaxer system.
Summary
1 Description
2 Floors
3 Areas

3.1 Lower deck
3.2 Upper floor

4 Obtaining
Description
This splendid Liyue-style residence, one of the teapot's main mansions, is as luxurious as any building on Yujing Terrace. They say the Adeptus prefer simplicity in their worlds and rarely settle in mansions like this. This building was specially built by Madam Ping for Paimon and you, as they had been sleeping and eating outside for a long time.
Apartments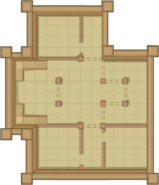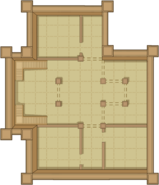 Lower floor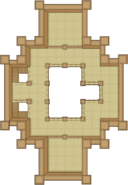 Upstairs
Areas
Lower floor
Living Room
Inner room (north)
Inner room (south)
Inner room (southeast)
Upstairs
Corridor
Interior room 2nd floor (north)
Interior room 2nd floor (south)
Obtaining
This Mansion is awarded when you unlock one of the following designs:

Floating abode
emerald top

This Mansion can also be unlocked by reaching Confidence Rank 7.