Litsai is a non-playable character located at the gates of the Liuli Pavilion and near the Port of Liyue Teleportation Point.
In the Archon Mission "an organization known as Wangsheng", Litsai and Hongru escort Tartaglia, Paimon, and the Traveler into the Liuli Pavilion, where Zhongli is waiting for them.
Summary
1 Location
2 Missions and events

2.1 Archon Missions
2.2 Events

3 sentences
4 Store
5 Dialogues
6 Change history
Location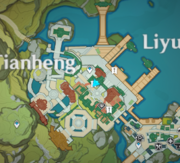 Pabellón Liuli, Puerto de Liyue
Missions and events
Archon missions
Chapter 1, Act II, Goodbye, Master Perfected

An organization known as Wangsheng (English translation)
Events
Stone Harbor Treasure Journal (English Translation)
Phrases
Store
| Purpose | Price | Quantity | Total Price |
| --- | --- | --- | --- |
| Delights of Puerto de Piedra | 1925 | 2 | 3 850 |
| Noodles with mountain delicacies | 2150 | 2 | 4 300 |
| Cured meat with matsutake | 7275 | 2 | 14 550 |
| Heavenly Axis Flesh | 12000 | 2 | 24 000 |
| Recipe: Delights of Puerto de Piedra | 2500 | 1 | 2500 |
| Recipe: Cured Beef with Matsutake | 500 | 1 | 500 |
dialogues
Litsai:
Welcome to the Liuili Pavilion! How many people accompany you? Do you have a reservation?

Do you have food to go?
Litsai:
Of course! You can enjoy our classic Li cuisine wherever you want. (The Liuli Pavilion Shop menu opens.)

Is it always necessary to make a reservation?
Litsai:
Yes, sorry for the inconvenience. If you wish to eat inside the Restaurant, we ask that you make a reservation three months in advance. I'll be sure to write it down.
Litsai:
Hey? Does a three-month wait seem long? There is a limited capacity of clients that we can receive per day, so the wait is long.
Litsai:
Also, for a chance to eat in Li's kitchen paradise, three months is not too long ...
Litsai:
People who come to the Liuli Pavilion do so because they love to taste gourmet food cooked in classic Li style. Everyone has to wait their turn, even the rich and famous.
Litsai:
You can order take-out if you want, but you will miss the atmosphere of the restaurant.

Goodbye.
Litsai:
Take care. Let me know right away if you ever want to make a reservation!
Change history
Version 1.3 Launched the Liuli Pavilion Shop by talking to
Litsai
. Version 1.0
Litsai
was added to the game.