Lao Sun (老孙 Lǎosūn in Chinese) is a non-playable character located in Port of Liyue, Liyue about during the day at (6:00 - 19:00) and at night around (19:00 - 6:00) in the terrace of Los Tres Cuencos.
Summary
1 Profile
2 Location
3 Store
4 sentences
5 Dialogues
6 Curiosities
7 Missions and events
Profile
The fish of Lao Sun They are better than Lao Gao's, or at least that's what they both want you to think. They can actually be found drinking together at The Three Bowls at night and reveal that they are in cahoots. By purposely setting a higher price for his fish, Gao convinces people to buy from him. Sun, thinking that their fish is a better deal. Then the two share the winnings.
In conversation with Lao Gao during one of the Archon Missions "The Rite of Ascent." They discuss the resurrection of Osial and the attack on the Port of Liyue, and speculate that the one behind was also involved in the murder of Rex Lapis. They then listen as a Geo-Navy soldier tells the official story of the Seven Stars of Liyue behind the matter.
Location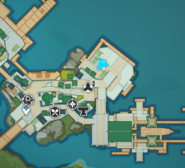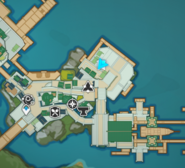 Liyue Port, Liyue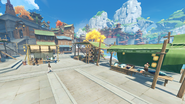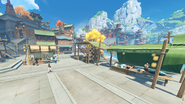 Lao Sun at Liyue Port (Day)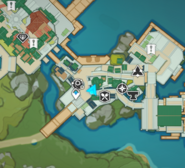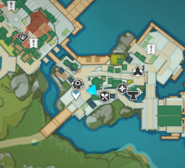 The Three Bowls, Port of Liyue (Night)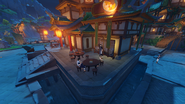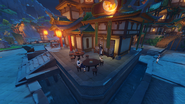 Lao Sun in The Three Bowls (Night)
Store
The redemption currency for this store is It must.
Ingredients
Price
Quantity
Total price
It updates
Fish
240
10
2.400
Daily
Crab
240
10
2.400
Daily
Shrimp
150
50
7.500
Daily
Total price: 12.300
Phrases
Fresh fish ... (Day)
Gao, brother ... (Night)
dialogues
Dialogues during the day (6: 00- 19:00)
Lao Sun:
Dear customer, Would you like to buy some fish?
Lao Sun:
Everything is fresh. No, it's Superfresh!

I want to buy super fresh fish.
Lao Sun:
Choose the one you want. They are all super fresh. (The Store menu opens.)

What do you mean "super cool"?
Lao Sun:
All the fish I sell is super fresh.
Lao Sun:
It may seem that there is not much difference between fresh and super fresh, but I assure you there is, both in size and quality.
Lao Sun:
And I can guarantee you something: my prices are better than the store across the street.

The store across the street?
Lao Sun:
* Sighs *, not long ago we were both charging higher prices, but my fish sold better because it was fresher.
Lao Sun:
Then Lao Gao started to lower his prices, probably jealous that I was doing well. Suddenly, I got into a price war with him.
Lao Sun:
So, in order to provide fresh fish at a reasonable price, I decided to reduce the price to the cost that I buy it for.
Lao Sun:
* Sighs *, I don't know how long I can keep my prices so low. I can only count on the support of all my local pro clients now.

Thanks god.
Lao Sun:
Be careful, and thanks for your loyalty, haha!
Dialogues during the night (19:00 - 6:00)
Lao Gao:
How about business today?
Lao Sun:
Take it as a form of gratitude, it was all thanks to your plan!
Lao Gao:
Hehe, they won't suspect anything. Everything is going according to plan!
Lao Sun:
How expected of Lao Gao! There is no way for anyone to remotely suspect that we are accomplices. As soon as they compare our prices, they will surely think that I am the only one doing business.
Lao Gao:
Ha ha! To your health, Lao Sun. Health!
Lao Sun:
Let me fill your glass.
Lao Gao:
Well, today we drink even the water from the pots! Ha ha!
Lao Sun:
Enough of words! Let's drink!
Curiosities
The deal between Gao and Sun it is known in real life as Anchor.
They both posted an announcement on the Peñasco Chihu Notice Board.
Missions and events
Archon missions
Chapter I

Act I - "A new rising star"