This article contains descriptions translated from the English version instead of using the official texts of the game in Spanish. You can correct them yourself or share screenshots of the errors with us via Discord.
In the world of Teyvat, where the seven elements flow and converge, anyone can be blessed with the power of one of the archons.
Summary
1 Description
2 Elements and Archons
3 Status effects
4 Elemental reactions
5 Elemental resonance
6 Characters

6.1 Anemo
6.2 Cryo
6.3 Dendro
6.4 Electro
6.5 Geo
6.6 Hydro
6.7 Pyro
Description
They are the building blocks of this world and the source of many miraculous phenomena.
All kinds of things happen when elements interact. Adventurers, travelers, and warriors use Elemental Reactions to perform feats that would be impossible to achieve otherwise. »
~ Loading screen
Elements and Archons
Archons grant some of their elemental power to mortals in the form of Visions. Similar in appearance to crystal orbs, they allow bearers to focus their mental energy to use the elemental powers of the archon who blessed them. Once this power is given, the bearers are called "Allogens".
There are seven powers that exist in Teyvat, each with its respective archon and its own region or city that worships said archon.
| Emblem | Element | Region | Archon | Theme |
| --- | --- | --- | --- | --- |
| | Anemo (Wind) | Mondstadt | Barbatos (Venti) | Germany |
| | Geo (Earth) | Liyue | Morax (Zhongli) | China |
| | Electro (Lightning) | Inazuma | Beelzebul (Shogun Raiden) | Japan |
| | Dendro (Nature) | Sumeru | God of Wisdom | Middle East / India |
| | Hydro (Water) | Fontaine | Goddess of justice | France |
| | Pyro (Fire) | Natlan | Goddess of War (Murata?) | ? |
| | Cryo (Ice) | Snezhnaya | The Zarina | Russia |
Status Effects
Just coming into contact with the elements will cause the character, enemy or object to be afflicted by an elemental status effect.
| Element | Effect |
| --- | --- |
| | Slows the target's movement speed. |
| | Water bodies afflicted with Electro will spread the state to nearby targets in the water and will normally cause the Electro Charged reaction when wet. |
| | Causes the target to become wet, used for elemental reactions. |
| | Deals damage over time through small burns (~ 3 damage per second). |
Inside the Abyss Spiral and some Domains, monsters or objects may have an aura that causes a damaging effect on characters in its area of ​​effect.
The effect can be temporarily undone by intentionally causing elemental reactions in the character. The aura will affect only characters currently on the field.
| Element | Name | Effect |
| --- | --- | --- |
| | Devouring storm | When affected by Devouring Storm, will consume the character's Elemental Energy non-stop. You can free yourself from this state if you remove the Electro element on the affected character using a Elemental Reaction. |
| | Slowing water | When affected by Slow Water, prolongs TdE. You can free yourself from this state if you remove the Hydro element on the affected character using a Elemental Reaction. |
| | Flaming fire | When affected by Blazing Fire, the character will receive Continuous Pyro Damage. You can free yourself from this state if you remove the Pyro element on the affected character using a Elemental Reaction. |
| | Condensed ice | When affected by Condensed Ice, Increases Stamina Cost of the character. You can free yourself from this state if you remove the Cryo element on the affected character using a Elemental Reaction. |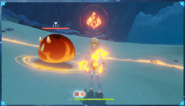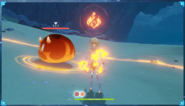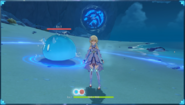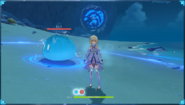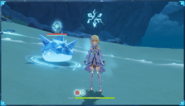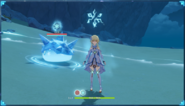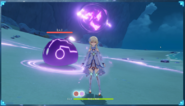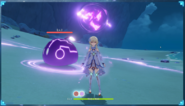 Elemental reactions
Main article:
Elemental reaction.
Applying certain combinations of elemental effects to a target (monster or player) will trigger an elemental reaction.
Elemental resonance
When there are certain combinations of elemental characters on a team, the entire team receives a bonus. These effects are stacked and applied in Co-op Mode.
Elements
Name
Effect
Anemo Anemo
Raging winds

Decreases Stamina Cost by 15%.
Increase Vel. Movement in 10%.
Reduces TdE by 5%.

Geo Geo
Resistant rock

Shield protection, increased by 15%.
When protected by a Shield, increase damage dealt by 15%.
When dealing damage against an enemy, that enemy's Geo RES is reduced by 20% for 15 seconds.

Pyro Pyro
Fervent flames

Reduces the duration of Cryo effects by 40%.
Increases ATQ by 25%.

Hydro Hydro
Medicinal water

Reduces the duration of Pyro effects on you by 40%.
Increases healing received by 30%.

Electro Electro
High voltage

Reduces the duration of effects with Hydro by 40%.
Superconductor, Overcharge and Electrocharged have 100% to generate an Electro Elemental Particle (TdR: 5s).

Cryo Cryo
Fragmented ice

Reduces the duration of Electro effects by 40%.
Increases CRIT chance against opponents affected by Cryo or frozen enemies by 15%.

Any of the 4 unique items
protective cover

All Elemental RES + 15%.
RES Physics + 15%.
Restrictions
In cooperative mode, if part of the team is in a domain the resonance will be determined by the characters that are in the domain and only these characters will receive the bonuses.
The temporary characters that are available during missions do not affect resonance.
Characters
Anemo
See also:
Anemo users.

Jean

Jean

Kaedehara kazuha

Kaedehara kazuha

Saccharose

Saccharose

Sayu

Sayu

Winds

Winds

Xiao

Xiao
Cryo
See also:
Cryo users.

Aloy

Aloy

Chongyun

Chongyun

dione

dione

Eula

Eula

Ganyu

Ganyu

kaeya

kaeya

Kamisato ayaka

Kamisato ayaka

Qiqi

Qiqi

Rosaria

Rosaria
dendro
See also:
Dendro users.
Electro
See also:
Electro users.

Beidou

Beidou

Fischl

Fischl

Keching

Keching

Kujou sara
Kujou sara

Lisa

Lisa

Razor

Razor

Shogun Raiden
Shogun Raiden
Geo
See also:
Geo users.

albedo

albedo

Ninguang

Ninguang

Noelle

Noelle

Zhongli

Zhongli
Hydro
See also:
Hydro users.

Barbara

Barbara

Mona

Mona

Sangonomiya kokomi

Sangonomiya kokomi

Tartaglia

Tartaglia

Xingchiu

Xingchiu
Pyro
See also:
Pyro users.

Amber

Amber

Bennett

Bennett

Dilute

Dilute

Hu Tao

Hu Tao

Klee

Klee

Xiangling

Xiangling

Xinyan

Xinyan

Yanfei

Yanfei

Yohimiya

Yohimiya