Archaic Petra
is a set of artifacts from Genshin Impact.
Summary
1 effect
2 Recommended Characters
3 History

3.1 Cracked Cliff Flower
3.2 Steep Range Feather
3.3 Everlasting Jade Sundial
3.4 Chalice of the Mountain Sculptor
3.5 Inert Basalt Mask

4 Statistics
5 Change history
Effect
2 pieces Bonus Geo Damage + 15%. 4 pieces When obtaining a crystal created through the Crystallization reaction, all team members gain 10% Elemental Damage Bonus from the element that caused the reaction for 35 seconds. Only one type of Elemental Damage Bonus can be obtained at a time.
4-piece voucher:

The character with the artifact set equipped must be the one to collect the Crystal for the team to earn the Elemental Damage Bonus.
Recommended Characters
The following characters can take advantage of the effect of the 4-piece set.

Viajero

Viajero

Zhongli

Zhongli

albedo

albedo

Ninguang

Ninguang
History
Cracked Cliff Flower
«A flower that sprouts in the crevices of rocks and minerals. Its petals sway with the breeze, just like a real flower. »
A flower that opened in an unreachable crevice of the
top of a rock.
It is an excellently sculpted plant with the essence
of the Geo element.

There is a popular story that goes like this:
In the past, someone told King Geo that there could be no life
on an inert stone.
Consequently, King Geo ordered the flowers of the
purest gold that emerged from the surface of a
solid rock.

Perhaps Archon Geo really did do such a feat;
or maybe that was just one of the many stories
ancient around his person.
But what is certain is that a prosperous port emerged
from between the inert mountains.
Maybe this port, which braved the violent waves
from the sea of ​​clouds,
it was the golden flower that emerged from an inert body.
Craggy Range Feather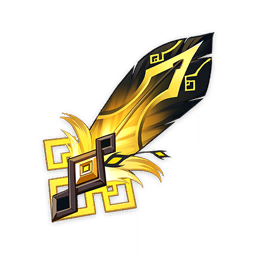 'A hard feather from a great mountain hawk. The basalt tip of the pen sometimes glows with dew drops. »
A feather that fell from gigantic wings that
they flattened the mountains.
Today it has turned moss green, but this feather
it is still sharp like the edge of a sword.

They say that in ancient times, when the world was
in chaos, Rex Lapis plucked stones from
mountains and turned them into raptors.
These birds, carved from nephrite, furrowed the
heavens as soon as they took their shape.
Spiraling into the sky, they traversed
clouds and flattened rocky peaks.

They say that these kites from the rock spread their wings to
plummet into the sea,
and they descended from on high like a comet
to reach the depths of the sea,
where sea beasts dwelt ...

It is said that the stone pillars protruding from the
Ocean continue to attract birds even today.
Everlasting Jade Sundial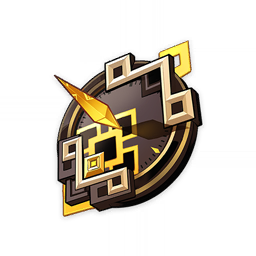 'A sundial carved from a single large piece of jade. It is carved with a pattern that silently records the passage of time. »
A sundial made from royal jade.
Chase the daylight in silence.

Even the rocks that stand firm since times
immemorial will crumble and turn to dust
over time.

Legend has it that once King Geo converted the
constellations of the earth in devices to measure the
time to teach human ancestors the value
of every moment.
Legend has it that the clock passed from hand to hand
for a long time, until it became the treasure of a
young scholar in the making.

"When I was young, I studied the texts profusely
classics with the intention of one day addressing
Sumeru to achieve wisdom.
But, getting this sundial, I played with it for
many days, for a long time, and I couldn't find even
a flaw in it.
This is how I changed my vocation to become a
craftsman and challenge the master behind this great work
engineering ".
Chalice of the Mountain Sculptor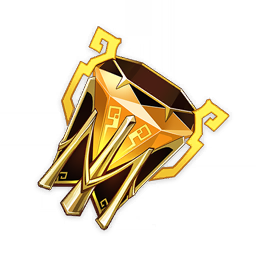 «A wine container that is as beautiful as it is solemn. A thousand years ago, it was full of jade inlays. »
A wine container carved from a rock
extremely hard.
It is said that it used to be used for sovereigns
drank from it.

It is inherent to basalt to be indestructible, just as it is
characteristic of crystal shine and be transparent.
In the same way, walking hidden among mortals
it must also be an exquisite pleasure.

Popular legends say that to drink wine,
Rex Lapis created a bedrock,
and carved a glass of wine for himself from jade and
precious stones.

Some even say there were seven identical cups
than that.
Inert Basalt Mask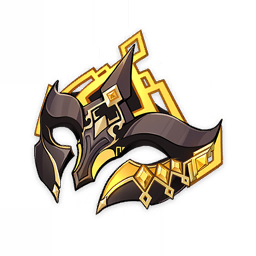 «A majestic mask carved from basalt. The sockets of his eyes stare coldly ahead. »
It is said that, in those years when the gods
fought each other, the image of Rex Lapis was that of a
slaughterer.
In those battles of gods against gods, no one would have
imagined that he would be a kind deity.

He never failed to distinguish right from wrong. In those days
riot, showed no compassion, not even towards
the friends who became his enemies.
Rex Lapis's cold expression never changed throughout
that era.

They say that expression only changed when the ashes
of the war ceased.
But he only did it because it was necessary, because he had a
I try to comply.
Statistics
Flor de la Vida
Statistics
Life
June 430th, 1893
June 645th, 3571
June 717th, 4780
Feather of Death
Statistics
Attack
June 28th, 123
June 42th, 232
June 47th, 311
Sands of the Eon
Statistics
Life
5.2 23.1% ~%
6.3 34.8% ~%
7.0 46.6% ~%
Defense
6.6 28.8% ~%
7.9 43.5% ~%
8.7 58.3% ~%
Attack
5.2 23.1% ~%
6.3 34.8% ~%
7.0 46.6% ~%
Elemental Mastery
June 21th, 92
June 25th, 139
June 28th, 187
Energy Recharge
5.8 25.6% ~%
7.0 38.7% ~%
7.8 51.8% ~%
Chalice of Eonothem
Statistics
Life
5.2 23.1% ~%
6.3 34.8% ~%
7.0 46.6% ~%
Defense
6.6 28.8% ~%
7.9 43.5% ~%
8.7 58.3% ~%
Attack
5.2 23.1% ~%
6.3 34.8% ~%
7.0 46.6% ~%
Elemental Mastery
June 21th, 92
June 25th, 139
June 28th, 187
Elemental Damage Bonus
5.2 23.1% ~%
6.3 34.8% ~%
7.0 46.6% ~%
Bonus Physical Damage
6.6 28.8% ~%
7.9 43.5% ~%
8.7 58.3% ~%
Logos Tiara
Statistics
Life
5.2 23.1% ~%
6.3 34.8% ~%
7.0 46.6% ~%
Defense
6.6 28.8% ~%
v7.9% ~ 43.5%
8.7 58.3% ~%
Attack
5.2 23.1% ~%
6.3 34.8% ~%
7.0 46.6% ~%
Elemental Mastery
June 21th, 92
June 25th, 139
June 28th, 187
Critical Rate
3.5 15.4% ~%
4.2 23.2% ~%
4.7 31.1% ~%
Critical damage
7.0 30.8% ~%
8.4 46.4% ~%
9.3 62.2% ~%
Healing Bonus
4.0 17.8% ~%
4.8 26.8% ~%
5.4 35.9% ~%
Sub-statistics
Along with secondary stats, artifacts can have up to 4 secondary stats or sub-stats. Every 4 levels, an artifact gains a new secondary stat if it is less than 4, or improves one it already has if it has 4. The secondary stat cannot be of the same type as the primary stat.
| Rarity | Maximum level | Number of sub-stats | Number of unlocks | Number of improvements |
| --- | --- | --- | --- | --- |
| | 4 | 0 | 1 | 0 |
| | 4 | June 0th, 1 | 1 | 0 |
| | 12 | June 1th, 2 | June 2th, 3 | June 0th, 1 |
| | 16 | June 2th, 3 | June 1th, 2 | June 2th, 3 |
| | 20 | June 3th, 4 | June 0th, 1 | June 4th, 5 |
Depending on the type of statistic, the initial values ​​are chosen randomly within a range:
Statistics
Life
Plano
June 100th, 143
June 167th, 239
June 209th, 299
Percentage
2.5 3.5% ~%
3.3 4.7% ~%
4.1 5.8% ~%
Attack
Plano
June 7th, 9
June 11th, 16
June 14th, 19
Percentage
2.5 3.5% ~%
3.3 4.7% ~%
4.1 5.8% ~%
Defense
Plano
June 8th, 11
June 13th, 19
June 16th, 23
Percentage
3.1 4.4% ~%
4.1 5.8% ~%
5.1 7.3% ~%
Elemental mastery
June 10th, 14
June 13th, 19
June 16th, 23
Energy Recharge
2.7 3.5% ~%
4.1 5.2% ~%
4.5 6.5% ~%
Critical Rate
1.6 2.3% ~%
2.2 3.1% ~%
2.7 3.9% ~%
Critical damage
3.3 4.7% ~%
4.4 6.2% ~%
5.4 7.8% ~%
Healing Bonus
2.7 3.9% ~%
3.6 5.2% ~%
4.5 6.5% ~%
Change history
1.0 version
Archaic Petra
was added to the game. Flower of Life Statistics












Life 430 ~ 1893 645 ~ 3571 717 ~ 4780 Feather of Death Statistics












Attack 28 ~ 123 42 ~ 232 47 ~ 311 Sands of the Aeon Stat












Health 5.2% ~ 23.1% 6.3% ~ 34.8% 7.0% ~ 46.6% Defense 6.6% ~ 28.8% 7.9% ~ 43.5% 8.7% ~ 58.3% Attack 5.2% ~ 23.1% 6.3% ~ 34.8% 7.0% ~ 46.6% Elemental Mastery 21 ~ 92 25 ~ 139 28 ~ 187 Energy Recharge 5.8% ~ 25.6% 7.0% ~ 38.7% 7.8% ~ 51.8% Eonothem Chalice Statistics












Health 5.2% ~ 23.1% 6.3% ~ 34.8% 7.0% ~ 46.6% Defense 6.6% ~ 28.8% 7.9% ~ 43.5% 8.7% ~ 58.3% Attack 5.2% ~ 23.1% 6.3% ~ 34.8% 7.0% ~ 46.6% Elemental Mastery 21 ~ 92 25 ~ 139 28 ~ 187 Elemental Damage Bonus 5.2% ~ 23.1% 6.3% ~ 34.8% 7.0% ~ 46.6% Physical Damage Bonus 6.6% ~ 28.8% 7.9% ~ 43.5% 8.7% ~ 58.3% Logo Tiara Statistics












Health 5.2% ~ 23.1% 6.3% ~ 34.8% 7.0% ~ 46.6% Defense 6.6% ~ 28.8% v7.9% ~ 43.5% 8.7% ~ 58.3% Attack 5.2% ~ 23.1% 6.3% ~ 34.8% 7.0% ~ 46.6% Elemental Mastery 21 ~ 92 25 ~ 139 28 ~ 187 Critical Rate 3.5% ~ 15.4% 4.2% ~ 23.2% 4.7% ~ 31.1% Critical Damage 7.0% ~ 30.8% 8.4% ~ 46.4% 9.3% ~ 62.2% Bonus Heal 4.0% ~ 17.8% 4.8% ~ 26.8% 5.4% ~ 35.9%