Ancient Ritual of Nobility
is a set of artifacts from Genshin Impact.
Summary
1 effect
2 Recommended Characters
3 History

3.1 Royal Flower
3.2 Royal Feather
3.3 Real Pocket Watch
3.4 Royal Silver Urn
3.5 Royal Mask

4 Statistics
5 Change history
Effect
2 pieces Ultimate Skill Damage + 20%. 4 pieces After casting an Ultimate Skill, increase the ATK of all team members by 20% for 12 sec. This effect cannot stack.
2-piece voucher:

The 2-Piece Bonus is considered% Damage and is additive with other sources of Damage% such as the% Elemental Damage from an Eonothem Chalice.
The 2-piece Bonus does not affect benefits provided by Elemental Skills, such as Bonus Normal Attack Damage, Charged Attacks, or Scourge Descending from all Xiao's evils.
The 2-piece Bonus affects any damage dealt directly by an Elemental Skill, including Razor's Lightning Fang's Electro Damage.

4-piece voucher:

Having more than one character on your team equipped with a 4-piece set of Ancient Ritual of Nobility does not accumulate the ATK obtained with the bonus, it only updates the duration.
However, the 4-piece Bonus can be stacked with other ATK sources, such as the Geoarmada's 4-piece Tenacity Bonus.

A 5 ★ Royal Flower can be obtained from one of the Nine Pillars of Peace World Quests.
Recommended Characters
The following characters can take advantage of the effect of the 4-piece set.

Mona

Mona

Bennett

Bennett

dione

dione

kaeya

kaeya

Lisa

Lisa

Saccharose

Saccharose

Xiangling

Xiangling

Xingchiu

Xingchiu
History
Royal Flower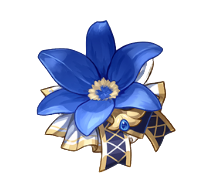 «A satin flower with a glossy finish, suitable for an elegant gathering. It still looks as distinguished as it did the day it was discarded. "
A blue lily made of silky satin.
It served as a headdress of a noble woman.

A noblewoman who was part of the Mondstadt aristocracy got rid of him.
In that legendary time, the nobles were an example to follow.
They not only guided their subjects with their exemplary demeanor and wisdom,
they were also the highest representatives of the people of Mondstadt.
They were noble both for their lineage and for their commitment to their virtues and principles.

The longevity of the nobles was shortened by their tireless lust, which deteriorated the semblance of magnificence of which they boasted.
Royal Feather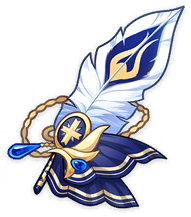 'Feather hat accessory worn by the old Mondstadt aristocrats on the hunt. Stand proudly as if no time had passed »
The feather of a hawk perched proudly on the hat of an old nobleman.
There was an ancient tradition that consisted of going hunting with the common people and sharing the loot with them.

Hunting was common, a pastime of the Mondstadt ruling class.
The hunt was a feast shared with his servants and the common people,
intended to show the benevolence of the nobles.
In fact, for the people it was cause for celebration.

However, this activity soon lost its meaning.
The nobles claimed all the spoils of the hunt in full and did not share it with the people.
The feather was still standing, but its color faded for the people.
Real Pocket Watch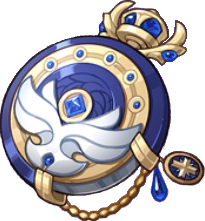 'A pocket watch that belonged to the old aristocrats of Mondstadt. Transmitted from generation to generation, it has witnessed many years of history »
An exquisite pocket watch made of sapphire.
It still works even after so many years.

The pocket watch of a nobleman who was part of the aristocracy that ruled over Mondstadt. It still indicates the exact time.
Punctuality was a virtue that the nobles were able to fulfill thanks to this pocket watch.
They did it more out of self-discipline than to set an example for ordinary people.
A good nobleman had to be more attentive at dawn and more thoughtful and restless late at night than other people.

Over the years, his lazy descendants replaced strict honor.
Their watches became ostentatious, and the sense of what they symbolized was lost.
Royal Silver Urn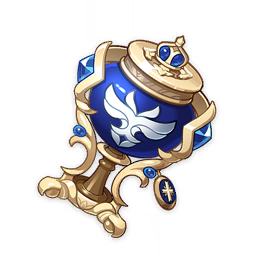 'An ornamental urn that belonged to the ancient aristocrats of Mondstadt. Gloomy winds seem to resonate in its empty interior »
An ornamental urn made of sapphire, decorated with the silver insignia of a noble family.
It is exquisite, elegant and showcases the aesthetics of the ancient nobles of Mondstadt.

It is the legacy of a nobleman who was part of the ruling aristocracy of Mondstadt.
Its extravagant interior ornamentation is long gone.
His luxurious accessories were a symbol of the status and wealth of the nobleman,
as well as the confidence, pride and prosperity of the people of Mondstadt.

Then the nobles fell prey to their own power.
They did what they wanted and spent money without regard for people.
Thus, the luxurious accessories became a worthless burden.
Royal Mask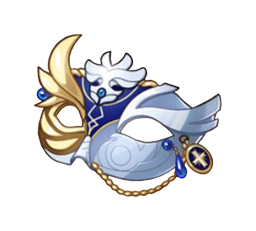 Masquerade mask worn by the old aristocrats of Mondstadt. His sunken eyes are fixed on the golden days of the past »
A silver mask inlaid with gold and gems, engraved with delicate patterns.
Made with great meticulousness, it is a testament to the refinement and customs of the ancient nobles.

The first nobles to rule over Mondstadt were heroes from humble origins.
The great heads and elegant princes, as well as the beautiful princesses and noble ladies,
they once welcomed people to their banquets and parties.
In days gone by, nobles were not stingy and displayed their wisdom and elegance.

In that golden age, the nobles shared their knowledge and earnings with the people.
But they succumbed to power, and the banquets were only for their own pleasure.
Statistics
Flor de la Vida
Statistics
Life
June 430th, 1893
June 645th, 3571
June 717th, 4780
Feather of Death
Statistics
Attack
June 28th, 123
June 42th, 232
June 47th, 311
Sands of the Eon
Statistics
Life
5.2 23.1% ~%
6.3 34.8% ~%
7.0 46.6% ~%
Defense
6.6 28.8% ~%
7.9 43.5% ~%
8.7 58.3% ~%
Attack
5.2 23.1% ~%
6.3 34.8% ~%
7.0 46.6% ~%
Elemental Mastery
June 21th, 92
June 25th, 139
June 28th, 187
Energy Recharge
5.8 25.6% ~%
7.0 38.7% ~%
7.8 51.8% ~%
Chalice of Eonothem
Statistics
Life
5.2 23.1% ~%
6.3 34.8% ~%
7.0 46.6% ~%
Defense
6.6 28.8% ~%
7.9 43.5% ~%
8.7 58.3% ~%
Attack
5.2 23.1% ~%
6.3 34.8% ~%
7.0 46.6% ~%
Elemental Mastery
June 21th, 92
June 25th, 139
June 28th, 187
Elemental Damage Bonus
5.2 23.1% ~%
6.3 34.8% ~%
7.0 46.6% ~%
Bonus Physical Damage
6.6 28.8% ~%
7.9 43.5% ~%
8.7 58.3% ~%
Logos Tiara
Statistics
Life
5.2 23.1% ~%
6.3 34.8% ~%
7.0 46.6% ~%
Defense
6.6 28.8% ~%
v7.9% ~ 43.5%
8.7 58.3% ~%
Attack
5.2 23.1% ~%
6.3 34.8% ~%
7.0 46.6% ~%
Elemental Mastery
June 21th, 92
June 25th, 139
June 28th, 187
Critical Rate
3.5 15.4% ~%
4.2 23.2% ~%
4.7 31.1% ~%
Critical damage
7.0 30.8% ~%
8.4 46.4% ~%
9.3 62.2% ~%
Healing Bonus
4.0 17.8% ~%
4.8 26.8% ~%
5.4 35.9% ~%
Sub-statistics
Along with secondary stats, artifacts can have up to 4 secondary stats or sub-stats. Every 4 levels, an artifact gains a new secondary stat if it is less than 4, or improves one it already has if it has 4. The secondary stat cannot be of the same type as the primary stat.
| Rarity | Maximum level | Number of sub-stats | Number of unlocks | Number of improvements |
| --- | --- | --- | --- | --- |
| | 4 | 0 | 1 | 0 |
| | 4 | June 0th, 1 | 1 | 0 |
| | 12 | June 1th, 2 | June 2th, 3 | June 0th, 1 |
| | 16 | June 2th, 3 | June 1th, 2 | June 2th, 3 |
| | 20 | June 3th, 4 | June 0th, 1 | June 4th, 5 |
Depending on the type of statistic, the initial values ​​are chosen randomly within a range:
Statistics
Life
Plano
June 100th, 143
June 167th, 239
June 209th, 299
Percentage
2.5 3.5% ~%
3.3 4.7% ~%
4.1 5.8% ~%
Attack
Plano
June 7th, 9
June 11th, 16
June 14th, 19
Percentage
2.5 3.5% ~%
3.3 4.7% ~%
4.1 5.8% ~%
Defense
Plano
June 8th, 11
June 13th, 19
June 16th, 23
Percentage
3.1 4.4% ~%
4.1 5.8% ~%
5.1 7.3% ~%
Elemental mastery
June 10th, 14
June 13th, 19
June 16th, 23
Energy Recharge
2.7 3.5% ~%
4.1 5.2% ~%
4.5 6.5% ~%
Critical Rate
1.6 2.3% ~%
2.2 3.1% ~%
2.7 3.9% ~%
Critical damage
3.3 4.7% ~%
4.4 6.2% ~%
5.4 7.8% ~%
Healing Bonus
2.7 3.9% ~%
3.6 5.2% ~%
4.5 6.5% ~%
Change history
1.0
{{{2}}}
Flower of Life Statistics












Life 430 ~ 1893 645 ~ 3571 717 ~ 4780 Feather of Death Statistics












Attack 28 ~ 123 42 ~ 232 47 ~ 311 Sands of the Aeon Stat












Health 5.2% ~ 23.1% 6.3% ~ 34.8% 7.0% ~ 46.6% Defense 6.6% ~ 28.8% 7.9% ~ 43.5% 8.7% ~ 58.3% Attack 5.2% ~ 23.1% 6.3% ~ 34.8% 7.0% ~ 46.6% Elemental Mastery 21 ~ 92 25 ~ 139 28 ~ 187 Energy Recharge 5.8% ~ 25.6% 7.0% ~ 38.7% 7.8% ~ 51.8% Eonothem Chalice Statistics












Health 5.2% ~ 23.1% 6.3% ~ 34.8% 7.0% ~ 46.6% Defense 6.6% ~ 28.8% 7.9% ~ 43.5% 8.7% ~ 58.3% Attack 5.2% ~ 23.1% 6.3% ~ 34.8% 7.0% ~ 46.6% Elemental Mastery 21 ~ 92 25 ~ 139 28 ~ 187 Elemental Damage Bonus 5.2% ~ 23.1% 6.3% ~ 34.8% 7.0% ~ 46.6% Physical Damage Bonus 6.6% ~ 28.8% 7.9% ~ 43.5% 8.7% ~ 58.3% Logo Tiara Statistics












Health 5.2% ~ 23.1% 6.3% ~ 34.8% 7.0% ~ 46.6% Defense 6.6% ~ 28.8% v7.9% ~ 43.5% 8.7% ~ 58.3% Attack 5.2% ~ 23.1% 6.3% ~ 34.8% 7.0% ~ 46.6% Elemental Mastery 21 ~ 92 25 ~ 139 28 ~ 187 Critical Rate 3.5% ~ 15.4% 4.2% ~ 23.2% 4.7% ~ 31.1% Critical Damage 7.0% ~ 30.8% 8.4% ~ 46.4% 9.3% ~ 62.2% Bonus Heal 4.0% ~ 17.8% 4.8% ~ 26.8% 5.4% ~ 35.9%
1.0
{{{2}}}